DI PATTERSON
Di Patterson, MSG, CPG is a Credentialed Professional Media Gerontologist, is the founder of Success in Aging Center®, Inc. and Season of Life® Conference, Inc.
Mission of Success in Aging®
Success in Aging® Shop

In my Success in Aging® shop, I will be offering products designed to fight isolation and make the lives of Seniors, and older Disabled, Widowed, and Veterans better. As a Gerontologist, I identify products, services and companies that Boomers and their Aging parents would want to know about! I study research, note health and social trends, and investigate a wide variety of resources with the eyes of a well-trained Gerontologist so that I can determine their value to the Aging public.

HOPE: Helping Older People Engage!

Success in Aging® Essentials Boxes help fight social isolation and offer a healthy dose of HOPE: Helping Older People Engage! I align myself with products, services and companies with a high level of integrity and the strong benefits these products and services offer to older adults, the disabled and veterans. I believe in ethical business practices, excellent customer service, and staying true to our vision or the company.
Vision of Success in Aging®
My vision of Success in Aging® has three categories:

Proaction: Actively engaging with your aging process, choosing how you want to age.

Parameters: Realities of your health and your budget, and your choices within them.

Preferences: Your personal tastes and lifestyles, looking toward a joyful older age!

I am a great believer in "getting off the couch" early when it comes to positive aging. The sooner we start to prepare and plan for our own old age, the better! Whatever your age, today is a great day to begin working toward your own Success in Aging®.
Di Page1

Aging Isn't a Choice,
But Aging Well Is!
It's a good time to be alive and aging in America. Just a century ago, the average life expectancy for a man was 53 years. By 1950, that figured jumped to 67 years. Today, his average life expectancy is 78 years and a woman's is 84 — but we all know that there's a difference between aging… and aging well. 
Most people have someone in their life who is over 65 who wants to age well, but lately they are more concerned with feeling lonely, isolated and afraid of what the future holds. Do you have a relative, neighbor, or a friend that fits this description whom you are worried about?
The Lockdown magnified a Problem!
Today, more than ever, Seniors, the Disabled, Veterans and the Widowed are struggling physically, emotionally, and sometimes mentally and socially… They are worried about staying active, feeling lonely and possibly even anguish about their circumstances and their future.
The question is…what can you do to help them?

Do you feel like you do enough to help them, or do you feel like you wish you could do more?

Are you able to visit regularly, or do you live far away?

Are you available when they need you, or is your schedule really full?

Do you regularly send thoughtful notes and gifts, or is that still on your to-do list?
Take it from Di Patterson, America's Gerontologist: sending something in the mail that shows them that you are thinking of them and that you care, is one of the best solutions to help them feel loved and appreciated!
But that is hard for most people to accomplish, as you need to find the perfect thing they need to keep them active and feeling cherished, and find the time to box it up and get it to the post office regularly.
A Truly New Solution:
Introducing the Success in Aging® Essentials Box
Di Patterson, America's Gerontologist, has been studying and promoting the successful aging of humans for over 20 years as she is on a mission to help Baby Boomers redefine how people think about Aging, and normalizing aging well! 
Researchers say that "successful aging" means a person functions at high physical and mental levels, has a low risk of disease or disability, and is actively engaged in life.
Di says, "I define active engagement with life as "success in aging". No matter the DNA cards we were dealt at birth, or the lifestyle choices we've made over the years—active engagement is what we can control, and it's up to us to make our own success in aging!"
And for the first time ever, Di is applying her extensive research in the biology, psychology, sociology, lifespan development theory and the ethics of Aging to create a solution tailor-made for aging well: Success in Aging® Essentials Box. 
America's Gerontologist chose each product for its ability to help people: 

Stay in their homes longer


Flourish mentally and physically


Our Inaugural box includes four essential items - consider it your "starter kit" for healthy aging!
The Success in Aging® Essentials Box collection is a thoughtfully curated, Gerontologist-approved gift box designed to empower older adults, people living with disabilities, veterans and the widowed by giving those who love them an easy way to show their affection and thoughtfulness. 
And since the products are selected by a trained Aging professional, you can rest assured that these products are Aging-friendly!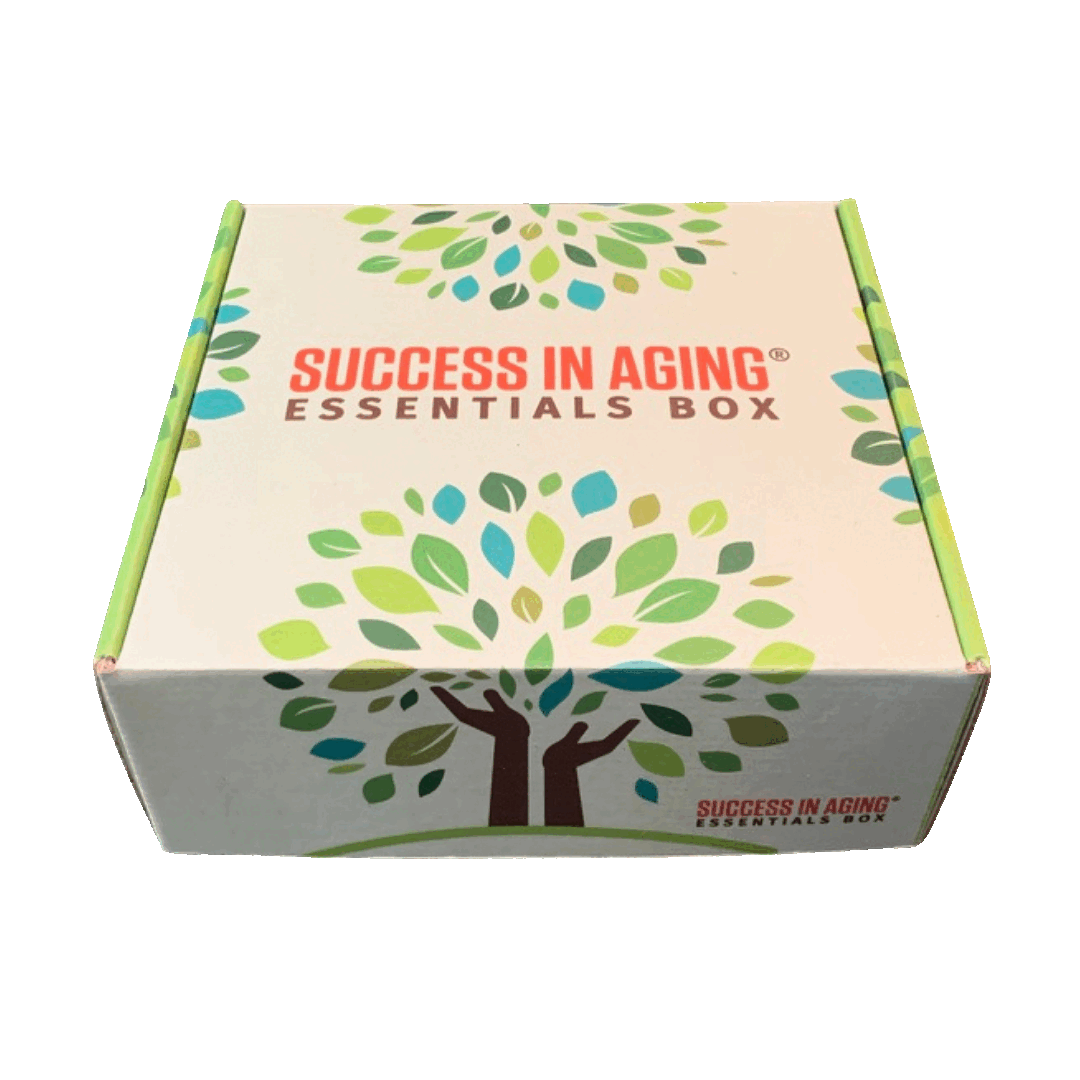 Do you need assistance with....